Pioneer Supply Chain Team
Our Pioneer Supply Chain team strives to:
Optimize value and control costs of goods and services
Provide goods and services needed with minimal lead time for internal stakeholder teams to operate
Manage spend and enable better visibility
Qualify suppliers and monitor processes to ensure quality standards are met
Continuously improve efficiencies with the use of data-driven decisions and process improvements
Manage contract validation and supplier performance
Supplier Diversity Commitment
Sustainable Procurement Commitment
Successful Sourcing
Successful sourcing and contracting benefits both Pioneer and our Suppliers by:
Identifying total cost and value
Knowing our costs and allowing for better planning and budgeting
Increasing Suppliers' awareness of Pioneer's needs and requirements
Enhancing the working relationship between Pioneer and our Suppliers
Ensuring the best value of goods and services
Securing supply
Request for Quote (RFQ) and Contract Processing
Request for Quote (RFQ) and Contract Processes include:
Work with stakeholder on specifications and scope of work
Identify and register bidders in Ariba
Conduct sourcing events and receive bids
Evaluate bids and work with internal stakeholders to make award decisions
Sign agreements and contracts
Contract price validation
Manage agreements and supplier performance
Strategic Sourcing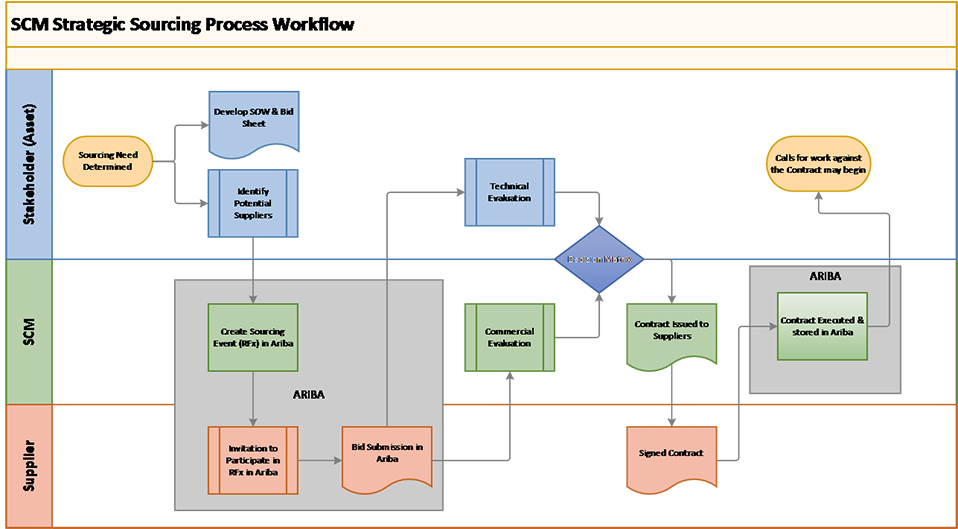 Supplier Performance Management
Suppliers may be required to participate in Pioneer's Supplier Performance Management program. Key performance indicators may be tracked and reviewed for any agreement/contract between Pioneer and supplier. Pioneer and supplier shall conduct collaborative evaluations of performance on a periodic basis, and work on improvements.
Preferred Buying Channels
Invoice Against Contract: Suppliers that have an active commercial agreement or contract in place with Pioneer may invoice against prices attributed to the agreement. This process allows for quicker validation and payment of invoices.
Purchase Order: Purchasing situations that are governed by Pioneer's terms and conditions or a contract, with validation steps in place.
Purchase Orders
A purchase order is required when a contract is not in place between Pioneer and Supplier, or unless other means are approved by Pioneer. A purchase order may also be used in conjunction with a contract.
A purchase order serves to clearly define the agreement of purchase/payment and terms and conditions between Pioneer and the selected Supplier.
Supplier Expectations: Code of Business Conduct
Pioneer personnel are required to comply with Pioneer's Code of Business Conduct and Ethics at all times, and Pioneer Suppliers and Contractors shall not place Pioneer personnel in situations that would cause them to violate the Code of Business Conduct.
Pioneer personnel must avoid any conflict between their personal interests and the interests of Pioneer.
Receiving or giving improper gratuities, favors or kickbacks is strictly prohibited. Upon request, Contractors and Suppliers are required to provide written certification that no improper gifts have been provided, solicited or offered.
Even when not accepted by Pioneer personnel, offers of an improper nature may be reported to Pioneer and may impact the vendor's relationship with our company.
View our Code of Business Conduct and Ethics.
Supplier Code of Conduct